Carbon Nanotube Masterbatches
We supply Carbon Nanotube Masterbatches!
Carbon Nanotube Masterbatches are now available in
Polystyrene
Polypropylene
Polycarbonate
PA6 and
ABS
Carbon Nanotube masterbatches are polymer pellets with multi walled carbon nanotubes dispersed in the polymer at concentrations of 10-20wt%.
The masterbatch can then be "let down" or diluted for further processing into parts made from conductive plastics and polymers.
Prices are per kilogram. To find the price for a specific product and quantity, please click thru to the individual product page and enter the quantity you need. Our website will display the price for that specific quantity.
Quotes are available online thru our cart. Simply add the products and quantities you need into the cart and then you can print or download a quote.
Carbon Nanotube Masterbatch
Our Carbon Nanotube masterbatch is suitable for a wide variety of applications requiring high strength, electrical and thermal conductivity, or protection from electrostatic discharge (ESD).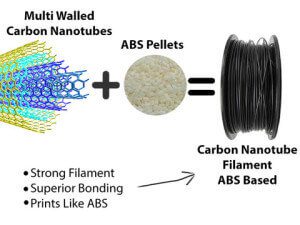 Publications using Carbon Nanotube Masterbatches from Cheap Tubes Inc
Rheological properties and electrical conductivity of irradiated MWCNT/PP nanocomposites
Liquid-State and Solid-State Properties of Nanotube/Polypropylene Nanocomposites Elaborated via a Simple Procedure
Showing all 5 results